Dot By Lynn is dedicated to serving the dental community by always striving to be the best! Getting the feedback of past students provides valuable information to help us in our efforts to provide the best training for those who are considering choosing dental assisting or dental administration as a lifelong profession.
Meet Elle And Learn More About Her Experience With Our Dental Assistant Training Program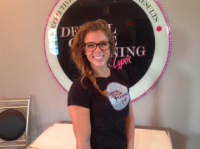 Age: 20
Current City/Town: Fishers
Why did you choose Dental Office Training By Lynn?  I've known about it for a while, I decided that I can make realistic short term goals that will aid me throughout my college career.
Your experience at DOT By Lynn?  DOT provides something unique compared to the other programs: connections. Lynn connects the dots! She has a group of dentists that she can refer us to BUT the biggest connection of all is our peers! If there is a DOT graduate working at an office you have a leg up when you apply at that office!
What made DOT unique for you?  loved meeting new people, making new friends and learning the ins and outs of the dental world!
What was your favorite part of your training experience?  Everything, because I use it all in my job today.
Was your instruction professional, fun, thorough?  Yes
Are you currently working in the dental profession?  Yes
What type of office are you working in?  I work in a general practice office.
Name of office?  Stevenson Dental
How long did it take you to find a job?  2 weeks
Do you feel you are well compensated?  Definitely
Are you glad you chose this field, Why?  Yes, I like challenges and this profession is constantly changing and growing.
What is your schedule like?  Currently I work part time (Mondays & Wednesdays) since I am also a college student.
Favorite part of your job, Interacting with clients, schedule, pay, teammates, etc?  All of it, mostly learning and helping others.
Would you recommend Dental Office Training By Lynn to others, Why? Yes, *all of my responses above.