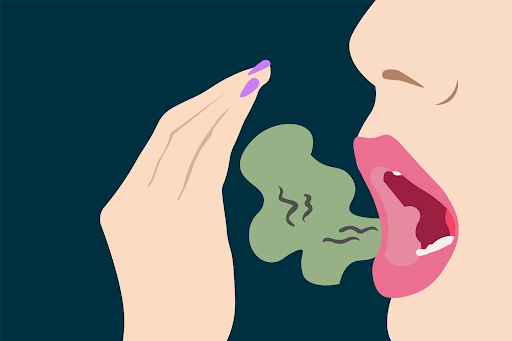 Is My Tongue Causing Bad Breath?
Tying down the tongue — what you need to know about your tongue and oral hygiene.
Fun Fact: Did you know the tongue is the strongest and most flexible muscle in the human body? We use our tongue 24 hours per day – whether we are speaking, swallowing, chewing or even breathing. 
"Tying down the tongue" as we say in the dental field is a constant and never ending battle. Dentists, dental assistants and dental hygienists know this all too well. Dental professionals have to wrestle, block, and work around the tongue everyday. Whether performing a common procedure such as an amalgam/composite filling, completing a routine cleaning, taking x rays or even performing an elaborate restorative procedure such as crown/bridge/dental implant – the tongue is front and center of it all. Your tongue health is vital to your overall oral health! Dental professionals are always looking for the best tips, tricks and facts to educate you and make your dental visit pleasant – a good dental office will do their research to ensure you are not overwhelmed, and provide you with information that pertains to your mouth as a whole. 
Stellar dental professionals will provide you with the facts about how to work your tongue into your daily oral hygiene routine. Your tongue plays a major role in your overall oral health!
What does my tongue say about me??
A healthy tongue is typically pink with a whitish film on the top and sides. Depending on your tongue color and the shape of your tastebuds, dental professionals can determine what types of habits you have – such as tobacco/alcohol use, sugar intake, and how hydrated you are. They emphasize tongue health because your tongue directly correlates with your oral health.  
During a routine dental exam, dental professionals perform an oral cancer screen. During this exam, they look for several different anatomies. First, they start out with the lateral borders. Your dentist will observe the upper and lower lateral sides to your tongue. The lateral sides are the most common place to find oral cancer. Next your dentist/doctor will observe the surface underneath your tongue – it should be smooth, pink and symmetrical in shape. Lastly your dentist will grasp your tongue between thumb and forefinger to ensure there are no masses or lumps. 
Does my tongue cause bad breath/halitosis…?
YES! 
Did you know that diet, saliva output, previous dental work and overall state of health can determine how likely you are to have halitosis? 
According to Colgate.com, "Most people are unaware of the fact that they have bad breath, or "halitosis" as dental professionals refer to it. Actually, one in four people have bad breath and some studies have reported that approximately 50 percent of the adult population does have it. In fact, it is estimated that nearly 60 million people will suffer from chronic halitosis in the United States."
Dry mouth is directly linked with halitosis.  Without saliva, there is no way to wash away debris and decay that stick to your teeth from food and drinks. All of the excess molecules that get stored on your tongue and teeth have no way to get washed away into our stomach. This causes a decay-like smell to perfume from your mouth. Without proper saliva production it is extremely difficult for us to swallow, prevent cavities, and avoid bad breath.
So what are some steps you can take to eliminate dry mouth and bad breath? 
Don't use mouthwash that contains alcohol

Stop tobacco use

Try mouthwash designed for dry mouth such as biotene.

Use a humidifier while you sleep 

Sip water regularly

Use sugar free gum
At Dental Office Training by Lynn, our 12-Week Dental Assisting Course and Expanded Functions Dental Assistant Programs discuss everything you need to know about oral hygiene so you can promote good oral hygiene as a dental assistant. It's important to spread knowledge and helpful information to dental patients because knowledge is power. 
Questions about our program? Give us a call at 317.585.9015
If you'd like to enroll in our program give us a call at 317-585-9015.