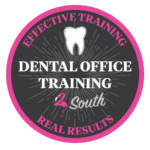 Join us for an open house at the new Dental Office Training 2 South location in Ft. Myers Florida. Friday, March 6th from Noon to 7pm.
Dental Assistant School Expands to Florida
FOR IMMEDIATE RELEASE
February 19, 2020
CONTACT: Nadine Jordan, Clinical Director
DENTAL OFFICE TRAINING 2 SOUTH
239-288-4677
FORT MYERS, FL (February 19, 2020). — DENTAL OFFICE TRAINING 2 SOUTH, LLC (DOT2S) announces it has opened a NEW location in Fort Myers. Lynn Uptgraft is a licensed dental hygienist with over 35 years of experience in dental hygiene, dental assisting and office management. Lynn created and developed Dental Office Training by Lynn, LLC Fishers, and is the owner and CEO of Dental Office Training by Lynn & Dental Office Training 2 South, Fort Myers.
Located conveniently off I-75 at 9861 Bernwood Place Drive, Suite 175, DOT2S will be providing Dental Assistant Training for those NEW to the Dental field as well as provide Florida's ADVANCED Restorative technical skills for those who may be looking to expand their current skill set. According to Nadine Jordan CDA, EFDA, DRL, Clinical Director/Instructor for DOT2S, "having networked with several dentist in the area and finding out that they all said the same thing, 'we need better quality dental assistants in our area' … we say, 'look no further!' We will continue to strive to provide the BEST dental assistant training in the industry!"
As Enrollment is now open, we look forward to sharing with all of SW Florida our unique proven training programs that prepare and train the best dental assistants in the industry.
Five Reasons to Pursue a Career in Dental Administration
Dental Assistant School Grand Opening
Friday, March 6, 2020
Noon – 7 pm
For more information contact Nadine Jordan, 239.288.4677 or at nadine@dentalofficetraining2south.com
"SETTING A HIGHER STANDARD, ACHIEVING GOALS, OBTAINING EMPLOYMENT, AND ENJOYING A LIFELONG CAREER."
That is our desire for every student that joins our team.
For more information about DOT2S, click here.
 ##Media Contact
Nadine Jordan, Clinical Director/Instructor
Dental Office Training 2 South, LLC. Lee County
9861 Bernwood Place Drive Suite 175
Fort Myers, FL 33913
239-288-4677
Website: www.dentalofficetrainingbylynn.com